Es gibt ein paar sehr coole Sachen, die in jüngerer Zeit für Cyberpunk als Genre rausgekommen sind. Da ist zum einen eine Vornheim-inspirierte Settinghilfe namens Augmented Reality.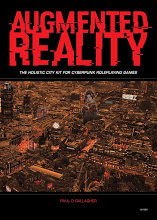 Und dann bin ich über eine tolle Serie gestolpert, die Jobs auflistet, die für jene sind, die keinen gut bezahlten Konzernjob kriegen. Das Gegenstück zum Burger wenden beim Macces könnte es sein, die Drone zu polieren, die deinen alten Job macht. Mein Favorit:
Rental Smart-Car Attendant: across the city, travellers rent their driver-less smart-cars by the hour or subscribe to commuter vehicles. For all their efforts, the corporations have yet to create the drone that can reliably pick the used condoms and burger wraps out of the lining between the car seat and the door.
Es gibt drei Teile: